An age-old design is a vital piece of technology in the response to COVID-19 in South Sudan
Ben Oldfrey
Aug. 27, 2020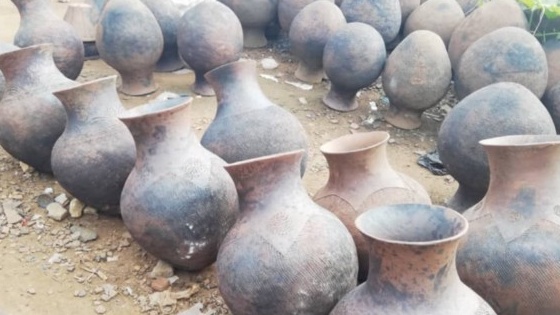 Found in many homes across South Sudan, these clay pots inspired a new response to Covid-19
David Gaaniko, entrpreneur, is working to fight the pandemic in South Sudan with the adaptation of an ancient storage technology that is common in almost every home.
Beautiful, locally-made clay pots are ubiquitous in South Sudan. Communities use the pots to store water and food. While they could use plastic items, these pots are better for keeping water cool and clean and the material to make them — clay soil — is available across South Sudan, especially in the greater equatorial region.
When David Gaaniko first heard about the virus in Wuhan, he knew that this would already have an impact on his existing business which helps students study abroad and that the students due to travel to China in March would not be able to go. He also noted that information about COVID-19 was initially unclear, "At first there were many myths around Coronavirus," he says. "Because of this, people didn't take it seriously. When it came to South Sudan, affecting local people and deaths were reported, I was terrified."
South Sudan had made preventative efforts in March to stay the virus. Flights to and from already affected countries were suspended, schools and universities were closed and a nighttime curfew was imposed. Despite these efforts, in April, South Sudan became the 51st African nation to report a case of the illness.
Entrepreneurial spirit
David was born ten days into the war in South Sudan. He grew up in extreme poverty and as a child he worked on a farm and sold cigarettes in order to pay his school fees. After completing his secondary education, he won a scholarship to study graphic and web design in India where he was inspired to offer the same opportunities to other young people which led to the establishment of Gaani Study Abroad.
"I wanted to create the possibility of educating the next generation who would be good citizens, free from violence," David says. "They are innovative, creative and able to stand up for what is right. South Sudan needs innovative people to build infrastructure, schools and health centres as the country is having to import foreign experts to work here because of a lack of local skills."
"South Sundan is a country where almost every item is imported"
Ancient technology
The idea to make pots came as a result of the arrival of COVID-19 in South Sudan. "When the lockdown started, the World Health Organisation introduced hand washing as part of prevention. It became difficult for local communities to have access to plastic materials which can be used for washing hands," explains David. "South Sudan is a country where almost every item is imported." David observed that local communities use pots made from clay soil. "They are widely used by almost every household in South Sudan," he says.
These traditional pots were originally designed as water coolers but they are also used for storage to keep food safe from animals and insects."The pot can be used for a number of things," says David. "Like cooking traditional medicines and foods. People across South Sudan use these pots, especially in rural areas because they are cheaper to make locally."
A clay pot with an added tap and soap holder is tested by the pot makers
David is also working with women who live nearby to manufacture face masks from local cloth called kitenge and rubber bands which hook the mask over the ears. The materials are locally available but imported by traders from neighbouring countries.
David Gaani works with local garment makers to create face masks
Future plans
David's plans are not just to make hand wash facilities and masks available during the pandemic. He also wants to work toward supporting communities for what lies ahead. "We need to train young people to make pots because most of the potters are people of old age, that means in future no one will replace them," he says. "The aim is to restore the tradition of the people of South Sudan and make them believe in themselves and their locally made items. I want to restore the culture of the people of South Sudan and make them believe they can develop their economy through participating in local produce, because what they produce locally can be cheaper and even be exported. We want to have a wider positive impact."
The work is not without its challenges. David notes that there are some issues in different parts of South Sudan that need to be addressed including financial shortages, lack of security which hinders free access to some areas, low levels of education in rural areas and a general lack of awareness about COVID-19. But David has real drive and ambition to take on the difficult tasks and he is optimistic about how things can turn out. "Our long term plans include turning the face mask production into wider garment production. The women who made the masks will produce uniforms and various other items of kitenge dress as they are popular in our country."
Gaani team members wearing their branded t-shirts and face masks
The pots with their ancient origins are also destined to continue to be an important part of life in South Sudan and beyond, "The clay tapped-pot is a multipurpose water pot that can be used for both drinking and hand washing after the current wave of COVID-19," says David."The pandemic is not the limit of its production. We plan to modify and redesign the pot to meet international standards and will showcase them for the international market in the future."
We're excited to share that Gaani is one of the organisations being supported through the Local Production Local Solutions (LPLS) theme of COVIDaction. David's venture will receive help via a grant and a range of additional support to take his business further and help more people in his local community.
This blog post first appeared on https://medium.com/covidaction/local/home